Tools
Search
Teach your Internet browser to find files via service Uloz.to!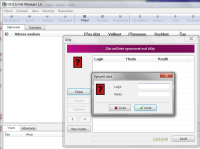 Uloz.to FileManager
Auto files upload
Transfer records of the individual uploads
Pausing the upload of the queue
Download of the files individually or queued
Pausing the download of the queue
Windows integration
Proxy support
Uloz.to Miranda plugin
Integration of an uloz.to upload client into Miranda - enables sending a file in an easy way when using ICQ or Jabber
Easy sending of a file directly to a contact.
After a successful upload your chosen contact is informed of this in the form of a link to the page, where he or she can download the file easily.